The Elder Scrolls Online Marks Four Years with an XP-Boosting Cake
Cake is pretty awesome. Cake that gives you a boon to your XP gain while playing an MMO is even more awesome. Except when the cake is only digital because the concept of XP gain isn't applicable in the real world, which is not awesome. Anyway, I'm getting off track. The point is, it will soon be the Elder Scrolls Online fourth anniversary and there will be cake.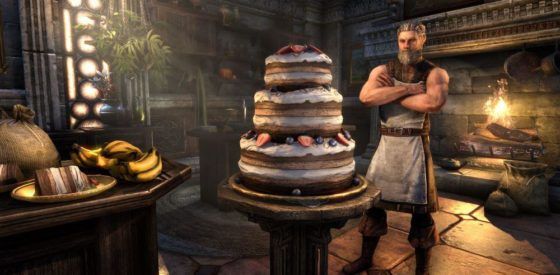 The cake in question is an in-game item that players can earn by speaking with an NPC and starting the quest "Ache for Cake". Completing the quest will grant players a three-tier Anniversary Jubilee Cake which, when summoned, lets your character enjoy a slice and gain a two-hour 100% XP buff that stacks with any other XP buffs already running. All without the drawback of the cake going straight to your character's thighs.
In addition to XP-boosting cake slices, players will also get Anniversary Gift Boxes that will drop whenever dailies or weeklies are completed. These boxes contain items such as crafting materials, a rare crafting item, or crafting motifs like the new Worm Cult style.
ESO celebrates its fourth birthday between Wednesday, April 4th and Monday, April 16th. More information, including some trivia with interesting data points such as the total number of monsters killed and the most popular racial choice, can be found here.
Our Thoughts
Happy birthday, ESO! Now we're hungry for cake. Cool.
Source: official site
Articles Related to The Elder Scrolls Online
Next Elder Scrolls Online Chapter will be Summerset
Morrowind is Coming to The Elder Scrolls: Legends
ESO Fan Lair Dungeon Guide
The post The Elder Scrolls Online Marks Four Years with an XP-Boosting Cake appeared first on MMOGames.com.
Author: #GamesMMORPG mmogames.com